The FXOpen Multilevel affiliate program lets traders who participate in the ForexGame competitions make money by bringing new clients to FXOpen.
Just place your referral link on the Forex or finance-related Web sites and start attracting referrals!
Introduce your friends to Forex and build up your own agent network!
You can learn about our other affiliate programs here.
Payment Terms:
Commission remunerations for referral's trades on STP accounts start from 2.4 pips;
Commission remunerations on ECN accounts up to 50% of FXOpen's ECN commission;
Commission remunerations on Crypto accounts start from 15% of FXOpen commission and can be increased up to 50%;
Loyalty program remunerations that depend on the referral's account type;
Commission is added automatically to your account once a day for all trades made by your referrals during the day;
Information regarding referrals and commissions can be found in the Partnership section of MyFXOpen personal area. Learn more...
---
Commission levels:
Suppose you brought in three clients via your referral link (Level 1 or direct referrals). One of the three also referred three clients (your 2nd level referrals or "downline"). In this case you become a Level 1 Agent and will receive additional commission from each trader attracted by your clients. The commission is distributed the way shown in the figure below: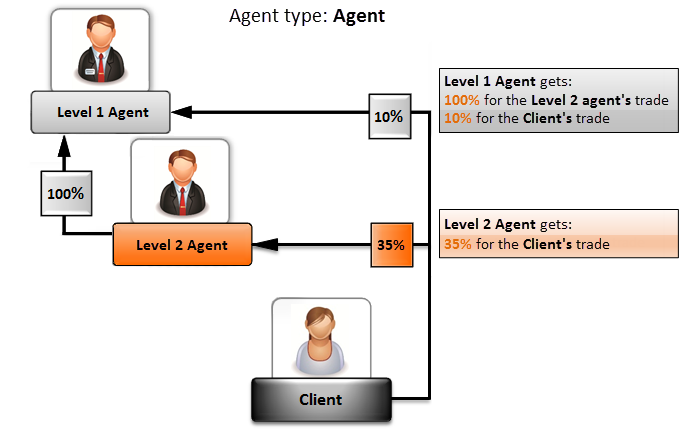 All the Agents will receive certain commission from the Client attracted by the Level 2 Agent:
Level 2 Agent receives 35% of the full commission for the trade performed by the Client.
Level 1 Agent receives 10% of the full commission for the trade.
You can learn more about our remunerations here.
---
Why partner up with us:
---
To become our partner
1. Sign up with ForexGame.
2. To get your unique referral link use the form at the bottom of the page:
- In the Agent field enter the number of the account indicated in your Forex Game User Profile.
- Click Generate.
- Your link will appear in the Generated Link field.
3. Use your referral link or a banner by posting it on a Forex-related Web site, a blog, a forum etc. Those clients who open an account following your link will automatically become your referrals;
4. Get rewards and develop your personal partnership network gaining new loyalty levels!
Interested in our partnership programs?
Contact our partnership manager for more information on how to become our partner immediately!