"Classics without Borders", a free trading contest for demo accounts, ended on December 24. For four weeks, more than 500 participants were actively competing for the prize fund of 1,500 USD.

So, we have received the results of the contest and present the winners to you: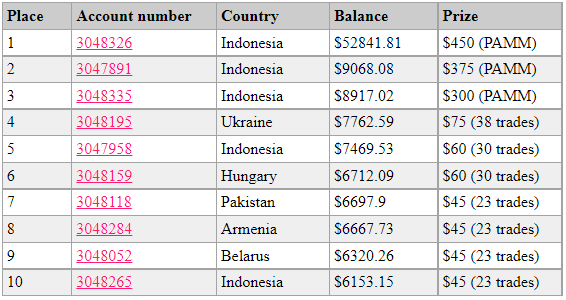 We congratulate the winners of "Classics without Borders"!
Terms for receiving the prize
The winners taking places 1, 2, and 3 will be credited with the prize money to their investment accounts. These funds are intended for opening a PAMM STP account. It is allowed to withdraw only net profit from trading. It is prohibited to close this PAMM account.
The rest of the winners will receive money for their STP accounts. Money can be withdrawn in case that the trades are made at the price of 2 USD for each trade. For example, to withdraw the prize of 45 USD, you need to make 23 trades (45/2=22,5, rounded up). Withdrawal of profit is possible only after all trades have been made. Failing this will lead to prize money written off the account. Please be aware!
To receive the prize, you need to open the appropriate account type, pass full verification (Level 2), and send your account number within three weeks after the announcement of the winners to

[email protected]

. After three weeks, the prize will be revoked.