The trading strategy to be examined in this article has different names: "Trading chaos", "Profitunity", "Trading system by Bill Williams", etc. We will refer to it as "Trading chaos".
Requirements for the strategy:
Timeframe: H1, H4, D1;
Currency pairs: all available;
Indicators: Awesome Oscillator (AO), Alligator, AC.
The trading strategy is not complicated, but requires patience and is more suitable for long-term trading. Sometimes you will have to wait for weeks to get your profits, but it can happen to be earned in no time.
So, here are the basic principles of the "Trading chaos":
1. You enter the market in several steps. Take the first one once a reversal bar has formed. There are two kinds of reversal bars: the bullish buy-signal bar and the bearish sell-signal bar. The first one opens below the low of the previous bar and the closing price is in the upper half of the bar. The bearish reversal bar has a higher high than the previous one and closes in its lower range. Remember that for the first entry there should be angulation, which is the angle between the price bars and the Alligator lines. Enter with the minimum lot size.
2. If you have already made profit after the first entry and see the Awesome Oscillator (AO) indicator change its color, you can enter with a double or triple lot size. The author of the strategy calls it "The Second Wise Man" signal, which appears when the third AO bar, turns green.
3. There are some additional AO and AC signals, which can be used as indicators to enter the market only if the first two entries are profitable. For instance, you can enter by the first green AO bar above zero or by the third green AC bar.
4. The price moving towards the fractal breakthrough is the third entry signal. You can use all the fractals above (to buy) or below (to sell) the Alligator lines.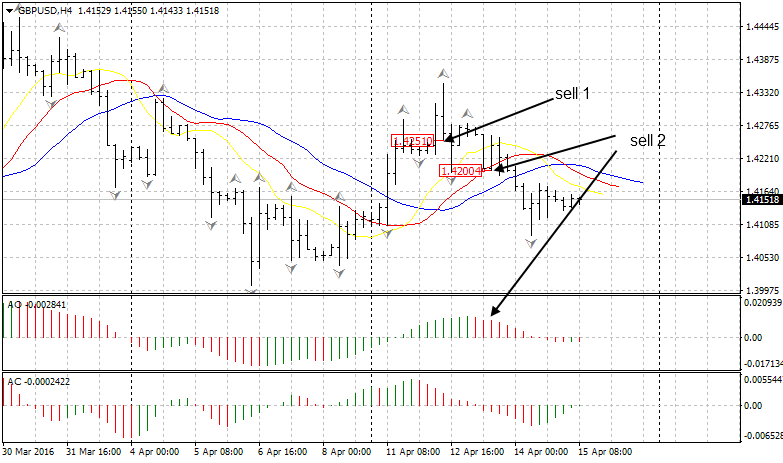 Enter by using pending orders placed at the signal bar high/low + spread + 1 tick. It`s better to open a position by the Second and the Third Wise Man signals only if the first entry has brought in good profits.
We close the position when in profit or by setting a Profit Stop (Stop Loss in breakeven). Place Stop Profit at the low of the 5th AO green bar if you buy and at the high of the 5th red bar if you sell.